Whaaat!?
is a word for that feeling you get when something simultaneously delights and confuses you. It is the guiding ethos of an experimental games & interactions event that I have helped organize for the past 6 years. We book world-class speakers from the world of game design, and our team curates panels, workshops, and multiple themed-arcades. It's an awesome time. 
Each year, I lead a redesign of the visual identity of the festival. 
2018
In the first year of the festival, my co-director 
Matt Bethancourt
 and I landed on a sort of "late 80s skateboard deck" vibe for the festival branding, underpinned by this glorious drippy word mark, plus some fun textures and a cotton tote bag, which Matt calls "boojums", even though that word is totally made up.
We still use this style to represent the Whaaat!? Lab, the year-round studio where we explore experimental games & interfaces.
That year
, we brought in Pippin Barr and Mattie Brice, who both did outstanding talks.
2019
With a successful festival in our rear view, we set our sights on a second year. This time, I felt drawn to the visual language of 90's cartoon title cards, specifically the ones from
Rocko's Modern Life
. 
We also continued our swag game, with a new boojum, featuring what has become our emblematic Interrobang, which I drew to capture both the typographic glyph, and to resemble the silhouette of a capital W:
Plus a
snappy program
 (featuring Coleen Macklin and Jason Rohrer), buttons, and the inauguration of the now infamous cereal bar.
2020
In our collective mania, we changed the festival from a 1-day event to an 
8 month 
online festival and mail-order novelty catalog, like normal sane people would do. Supermarket mailers and 1970s mail-order catalogs became the source material for
that year's
branding:
Conceptually, every two months we would do a new themed "issue", where we would host game jams, speaker talks, virtual book clubs,
old game streams
, and we'd send out weird merchandise to anybody who gave us 13 dollars. We made fanny packs, bandanas, printed Steam keys on mini polaroids, stamped postcards, even sent cereal.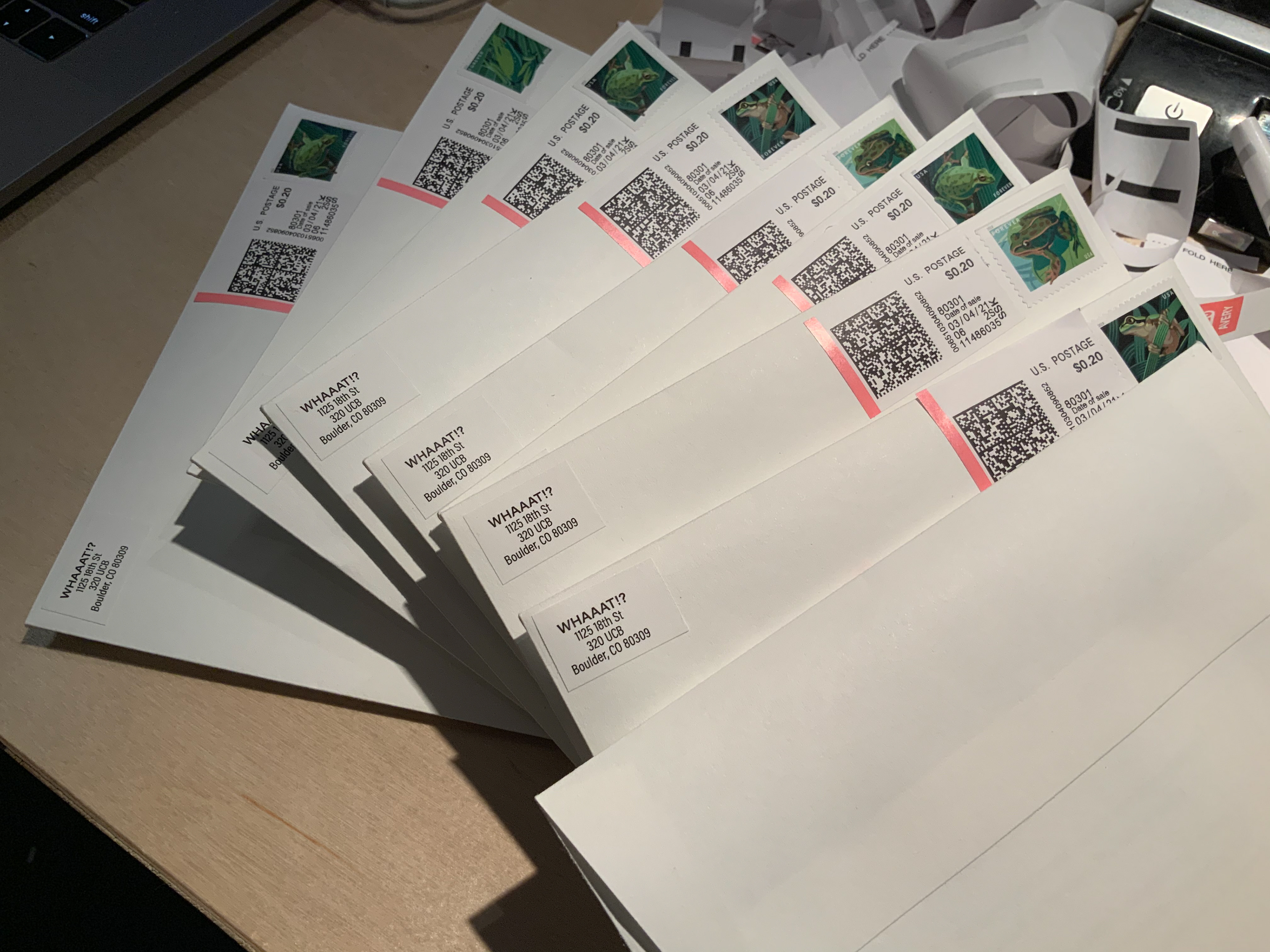 We also ran some fun events: an in-person, socially-distanced "Cat Arcade" where all the games were cat themed, and several interactive guest talks, featuring folks like Paolo Pedercini & Tracey Fullerton. 
Seemingly Pointless
even made a custom ARG called 'Bean Ops" that we played as a group. Pretty wild.  
2021
For some reason (COVID revenge? Pure insanity?), we decided to do and even BIGGER festival in 2021 with 4 speakers. The new visual identity was inspired by Japanese Retro-futurism, 1970s Monte Carlo Grand Prix posters, and...I'm not really sure, but I love how the poster turned out: 
In 2021, we floated the idea of a multi-layered fictional Whaaat!? currency, which we would award for playing games, and that festival attendees could use to buy "prizes": pencils, stickers, games, and lots of the leftover merchandise from previous years. (Coincidentally, the idea for
NumberCruncher
was also born around this time, although it didn't make its debut until the next year.)
That year
, we hosted 4 talks, had a bunch of cool workshops, curated 3 themed arcades, and ate cereal AND lunch. More than in years past, it felt like we were getting momentum. The energy at the festival was excellent. 
2022
And yet, we were burning out. The 2021 festival left us exhausted. Matt left ATLAS the next Spring to pursue a PhD in Montreal. Ultimately we decided to host a smaller, arcade only event in 2022. The visual theme: Educational Body Horror?
People found the theme kinda repulsive, but we had fun, and it fit with the games we showcased. Fresh back from
alt.ctrl.GDC
, we showcased a bunch of alternative control games, including the only public exhibition of
TIKATMOS
, a controller that won the
IndieCade Live Action award
that year
.
2023
For 2023, we brought back the full festival, albeit a bit smaller than in years past.
This year
, the visual theme was "death metal t-shirt meets underwater horror". 
Everest Pipkin
did a keynote! We raffled off a giant skeleton! We had a fishing arcade! And a bunch of other stuff!